I'm late! Sorry folks - I was having too much Halloween fun :). Hope these adorable little guys make up for it.
Kitty Cam:
This happened a couple of weeks ago, but I wanted to save it for this wonderful animal-centric post. Anthology Film Archives hosted the first (annual? Hopefully?) New York Cat Art Film Festival: Chat
D'œuvres. The title is a play on words – "chat" means "cat" in French, and "œuvres" essentially means the works of an artist. I like it! Anyway, the festival showed over 20 films, some short (Only My Cat Understands Me) some long (The Pink Panther), all featuring the glorious feline. Proceeds from the festival benefited KittyKind, an all-volunteer cat rescue and adoption group, so the event was well worth it! And look, Kitty Leia there is wearing a fabulous headpiece, validating her place in a fashion post :).
Sweet Sweaters
Back in October, New Zealand was crippled when a cargo ship ran aground spilling over 350 tons of oil into the ocean. The accident has killed over 1300 birds, including New Zealand's famous blue penguins. To help the wildlife, a yarn store in Napier, NZ put a call out for knitters the world over to send them sweaters for penguins! They uploaded the pattern and instructions on their website, and the sweaters began pouring in. The sweaters will act as a way to keep the birds warm until they can be scrubbed clean, as well as preventing them from ingesting oil as they clean themselves. What a lovely way to help out wildlife and keep a crafter busy

J

.
Cat Couture
I showed you a
mouse fashion designer
, well now I'm telling you about a cat fashion designer! Japanese cat fashion designer Iwasa Takako, has put out a book of photography featuring some of her amazing cat designs...and of course the lovely good sports who have to wear them. The book is called Fashion Cats, and please, for the love of God go look at the cover on Amazon! I discovered this gem of a book when attending the Design*Sponge book signing party in Asheville at Malaprop's. (More on that later!) My friend Sara and I were rolling while paging through these

hilarious kitties wearing everything from country bonnets to fur stoles. This book is a must-have for any cat lover!
Costumed Canines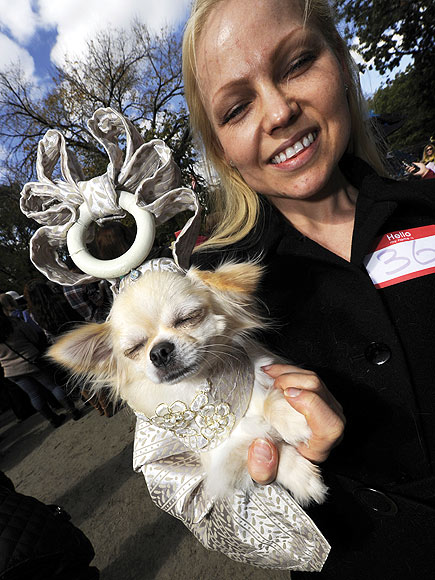 And last, but not least, I give you the costumed
animals of Halloween-loving owners. NYC held its 21st annual Halloween Dog Costume Parade in Tompkins Square, and thank God photographers were on hand. Clever owners costumed their pooches in everything from Princess Beatrice (shown) to Lady Gaga to Donald Trump. If you're in need of a pick-me-up today, I highly recommend a stroll through these photos. You just can't beat a Yorkie dressed as Edgar Allen Poe's raven or a Corgie dressed as a metro bus! Hope everyone had a safe and happy Halloween!