Happy Friday! The weather is crisp and sunny, I'm home from work and I'm about to put on Dirty Harry while I start on Sadie's Halloween costume. Can't beat that. The costume will be easy and awesome, and of course you'll see pictures. My costume needs a little tweaking, but I hope to have it squared away by tomorrow. But before we dive head first into the weekend, let's fill our bellies with some fashionable treats. Line forms here!
Versace x H&M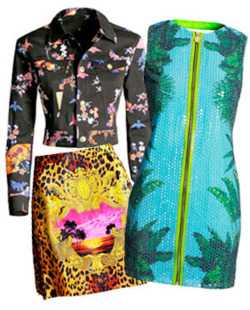 It's that time again – H&M collaboration time! This go it's with mega brand Versace, of skintight dresses and loud colors fame. Donatella famously said a while back that she would never do one, because to mix the high (Versace) with the low (H&M) would "confuse the brand." But money talks I guess - the collection launches November 17. Based on the buzz, it's going to be BIG. While I do enjoy the direction Donatella (and Christopher Kane) are taking the brand lately, with that sort of nod to the Gianni glory days while still keeping things fresh, I would never say that Versace has been my style. That doesn't mean I can't appreciate it though – God knows I'd love to hit the town in a 1-shoulder electric orange mini sometimes, but not in this lifetime. The price points are well above H&M's normal line, with around $249 for the collab's sparkly mini dresses, but of course, well, WELL below Versace's price points too. In looking at the ads and pictures that have been released, it does seem that this collab has got mass appeal, originality, design quality and that "keeping up with the Joneses" allure that should make it a sell out collection. (There's even palm frond prints and Greek key trim, making it unmistakably Versace.) And best yet? Graphic print suits for dudes!
Check out more photos
here
- what say you?
Designer Drinks
Piper-Heidsieck x Jean Paul Gaultier

Banana Republic x Clos du Bois

The bubbly pictured at left is the mastermind behind French champagne (redundant) house Piper-Heidsick and French designer Jean Paul Gaultier. You know, Madonna's famous cone bra:). Fitting that the 2 have teamed up to create a limited edition shom-pahn-ya featuring fishnets and a boudoir mask. Doubtful this makes it taste any better, but a JPG seal does make pretty much anything sexier. And the bottles at right are from a Banana Republic & Clos du Bois collaboration...why? I couldn't tell you. But look! pretty sketches by BR's Simon Kneen! The cabernet sauvignon sells for $18.99 and the chardonnay for $16.99. So, affordable. But still...! Chardonnay! (Riesling girl here...)
Chocolate Warrior
Speaking of wine, how about some chocolate to go with it?
The confection-covered lady at left is 2005 Miss France winner Cindy Fabre. She's wearing an outfit of over 300 chocolates designed by Benjamin Brass and constructed by Puyricard, a French chocolate company. Yum! It was to promote Salon du Chocolat, a yearly trade fair for the international chocolate industry. This year it was held in Aix en Provence, pretty much where my head goes every time I daydream. I think it's kind of funny that they made her look all gladiator-ish. Just doesn't seem to go with exquisite designer chocolates, but maybe that's just me. And I wonder if the chocolates were frozen first? Or the room was really cold? Chocolate melts at body temperature, just sayin.
New Icon: Miss Piggy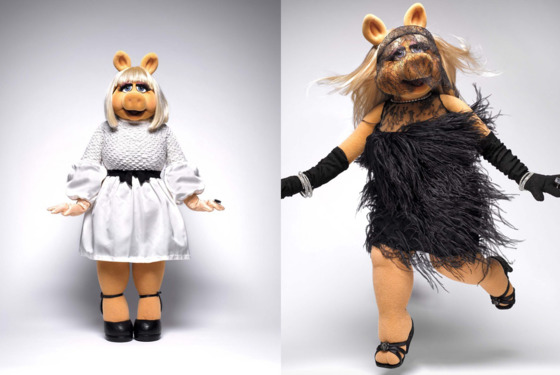 Back in January I alerted you to the awesome fact that Miss Piggy would be playing a Vogue editor in the upcoming Muppet movie! It seems she's having quite a moment these days, as her latest venture has her starring in an InStyle editorial. Here she is in a Prabal Gurung dress (left) and Jason Wu dress (right). She's even wearing Brian Atwood shoes!!! I love how the designers were so serious about their creations, with Wu stating he really thought the empire waist would complement her figure. Hilarious. And to to that off, she's also got a MAC collection coming out as well! Hers launches November 14, well before Daphne Guinness for MAC. I'm sure it will be full of pretty pinks and luscious lip products to smooch her Kermie with. At least I hope, because girlfriend is not workin' that Gene Simmons look.
Have a good'n!
Currently listening to: The White Stripes